Quality of Concrete Roof Tiles. Due to malicious schemes and frauds, many concrete tile companies failed to provide their customers with the products that they really deserve. With the most cunning ways to divert the customer's attention towards the products, companies like these can successfully gain other's money by selling to them low standard concrete roof tiles. How can you ensure that the companies where you plan to buy your roof tiles are not included in the type of companies explained here?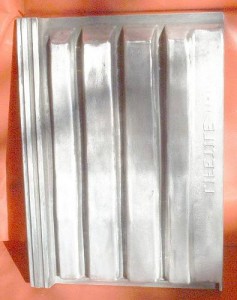 Always check the products that you are about to buy. If it is possible, conduct tests that will prove or disprove the claims that the company is stating repeatedly. It will be helpful to mimic the actual situations that your roof tiles will experience, like hailstones or other heavier materials falling into it. Small breaks and cracks should b enough to turn you off from buying from that concrete tile company again. Moreover, before you do the actual visit to the place, do some background research on the quality of the products, especially the concrete roof tiles, that they are selling. This will give you a hint on what to expect.
Do not be tricked by tile mold companies from having the best roofing ever. Let your own mind do the decision in accordance to what you have seen and heard.
Concrete Roofs installed with concrete tiles are the way to go. All you need is good cement, water, quality river sand, and you're in business.

Trim Molds for Concrete Roof industry
Prices for aluminum roofing tile molds made by die casting for concrete roof tile machines and roofing industry.
Contact us if you are looking for Tile Mold Pricing for aluminum molds for the concrete roofing industry equipment, please call 800-524-8083 or email us at sales@tile-molds.com.